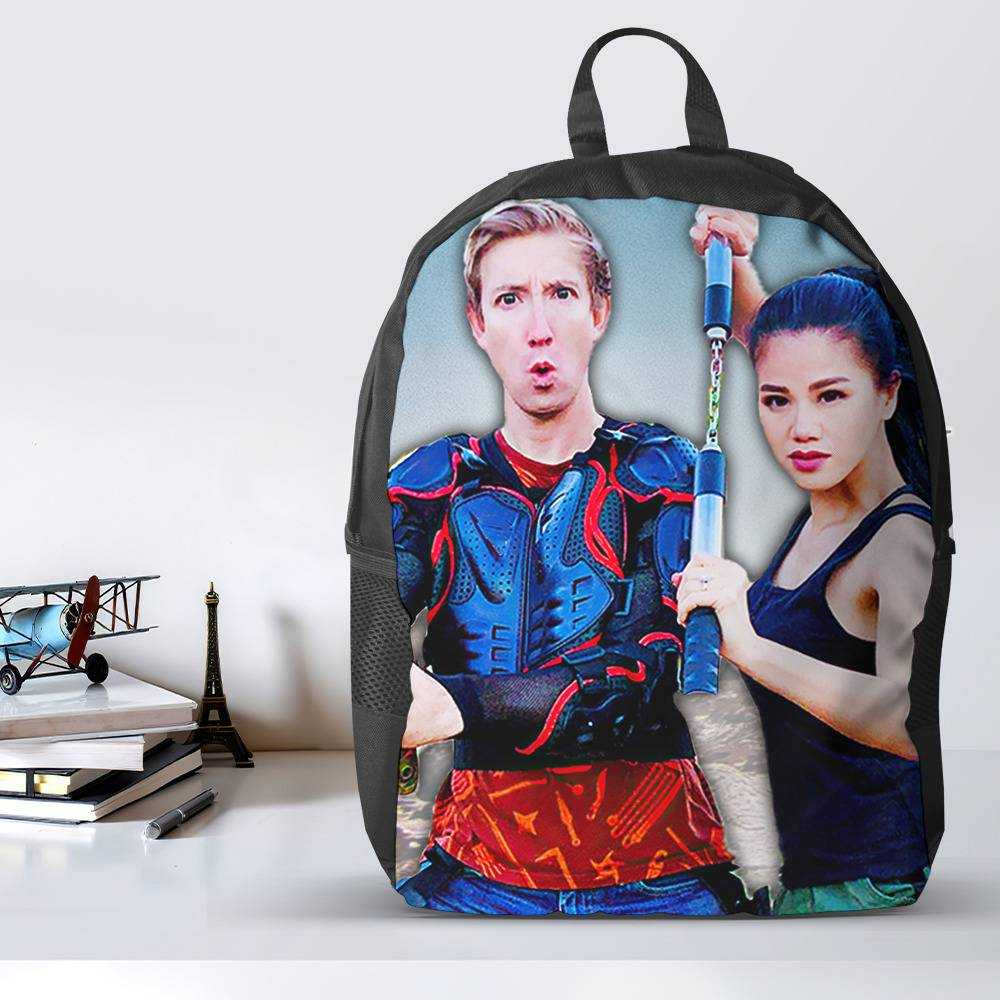 Spy Ninja Backpack Classic Celebrity Backpack Chad Wild Clay VY Qwaint Backpack
description

Design your everyday with Spy Ninja backpack you will love to snuggle up with. Match your style with patterns and designs from our professional design team. Original design. Create a personalized gift with a photo of your favorite celebrity. Material: This backpack is made of water resistant and durable Oxford cloth with metal zippers. Product Size: 16.5" * 12.5" * 5.5" Applicable People: Recommended for Age 6+ Applicable Scene: School, travel, climbing, shopping, zoo, park, outdoor sports, etc.
shipping

Free shipping for orders over $49

You can choose the shipping method during checkout:

Standard shipping: $7.99

Arrives 7-15 business days after the production time

Express Shipping: $29.95

Delivery 4-6 business days after the production time
Hello! Dear Ninjas--- Spy Ninja Merch Shop
"Spy Ninja" is a YouTube channel created by Chad Wild Clay and Vy Quaint. The duo has created a scripted spy saga, in which their characters are ninjas, working to defeat a hacker collective called, Project Zorgo. It sounds mysterious. It usually arouses our curiosity. If you are a Spy Ninja Fan, you can find a variety of merchandise that you are looking for. We are happy to share our merchandise. You must be a unique person to come here. Spy Ninja Merch Shop is for fans of Spy Ninja and those who like to dress differently. Dressing Spy Ninja Cloth is cool!!!
Spy Ninja Network---Created by Chad Wild Clay
Chad Wild Clay is the strongest and most skilled fighter and is married to Vy Qwaint. He also created the Spy Ninja Network, an app used to help the Spy Ninjas take down Project Zorgo together with the help of his wife, Vy Qwaint, the game Spy Ninja Network is a great chance for hacker fans to learn about the hacker world. Spy Ninja Network is a hacker-themed puzzle-solving mobile game launched by Broadband TV Corp. Players play as a hacker spies in Spy Ninja Network. Players use various tools to search for various clues on the Internet, and gradually uncover the content of the main storyline in the game. Of course, when players uncover the truth, there will be many difficult problems, and various brain-burning levels will be used to hinder the player's progress.
"Spy Ninja Network" adopts a global server structure. Players will compete with players from all over the world on the same screen, and collect various hacking tools at the same time. Make yourself more competitive in battle.
"Spy Ninja Network" came to the 20th position on the official top free game list for the first time on the list. It is enough to show everyone's curiosity about hackers.
If you are a big fan of technology, then please don't miss this "Spy Ninja Network".
What's in Spy Ninja Merch Shop?
We are mysterious like the spy ninja. So are our products.
Spy Ninja Notebook: Notebooks in different sizes. You will get a notebook with a Spy Ninja Logo or related pictures. Get one and record your "Spy Ninja time".
Spy Ninja Clothes: We offer Spy Ninja T-shirts, Spy Ninja hats, Spy Ninja hoodies, and more. Wear it and be mysterious.
Spy Ninja Decoration: We have Spy Ninja Poster, Spy Ninja Wall Clock, Spy Ninja Night Lamp, and more. Buy it and make your house mysterious.
Other mysterious products are waiting for you to discover!
Spy Ninja Hoodie--- Hot Sale
We offer Spy Ninja hoodies of top quality. Available in all of the different Spy Ninja colors, check out the super comfy pullover hoodie for youth. The hoodie features the Spy Ninjas logo. It is perfect for any skilled member of the Spy Ninjas.
Many manufacturers have adopted the Spy Ninja logo and created their personalized clothing lines. Right here, we're simply trying to bring it to Spy Ninja lovers around the world in a simpler way.
Spy Ninja Shirt--- Hot Sale
Shirts are must-have apparel in the summer season as the main part of a summer wardrobe. Shirts are also necessary for us in winter, your wardrobe must have some cool shirts. Why not a Spy Ninja shirt. We have a wide variety of shirts. They are stylish and cool.
What You Will Enjoy in Spy Ninja Merch Shop
Fast Delivery
Top Quality Product
Affordable Price
Careful answer
Customized product
Have a question? Have any issues you need to bring up with us? Email us anytime, at cs@spyninjamerch.shop.